Face coverings to be mandatory in shops from 24 July
Overview:
Face coverings will be mandatory in shops from 24 July
Failing to wear one could result in a fine of up to £100
Shop staff can refuse entry to shoppers who don't comply
Shop staff can call the police for back up if they experience resistance
The rules don't apply to children under 11 or people with some disabilities
Shop staff are not required to wear face coverings while working
From 24 July, it will be mandatory to wear face coverings in shops in England, this is already compulsory in Scotland. Anyone who fails to "cover up" could be fined up to £100, according to the Government.
The Government introduced mandatory face coverings to be worn on all public transport from the 15 June but has now been extended to shops and other enclosed public places.
The Health Secretary Matt Hancock said it would "give people more confidence to shop safely and enhance protections for those who work in shops". It was announced that the death rate from this virus is 75% higher for retail workers than it is for the general public. This comes with further Government support as Boris Johnson was seen sporting a face mask for the first time since the outbreak.
Some business owners have received this recent news regarding face coverings gratefully but there are concerns about how this will be enforced and whether shops have the power to refuse entry to shoppers who refuse to wear a mask. The Health Secretary has said, "Shop staff can call the police for back up if shoppers refuse to wear a mask".
Some politicians are less thrilled about having to wear face masks and have commented that it would make them less likely to go shopping. The retail industry reaction so far has been mixed, mainly calling for clarity and guidance around in-store cafes.
Kirsty Hampton, Mutual Manager of The Retail Mutual, has welcomed this move by the Government; "It helps support the high street further, by protecting our dedicated shop workers and building confidence with shoppers who may have been nervous about visiting the high street."
The introduction of face coverings aims to reduce the spread of COVID-19 from coughing, sneezing, and even talking, as demonstrated in the image below.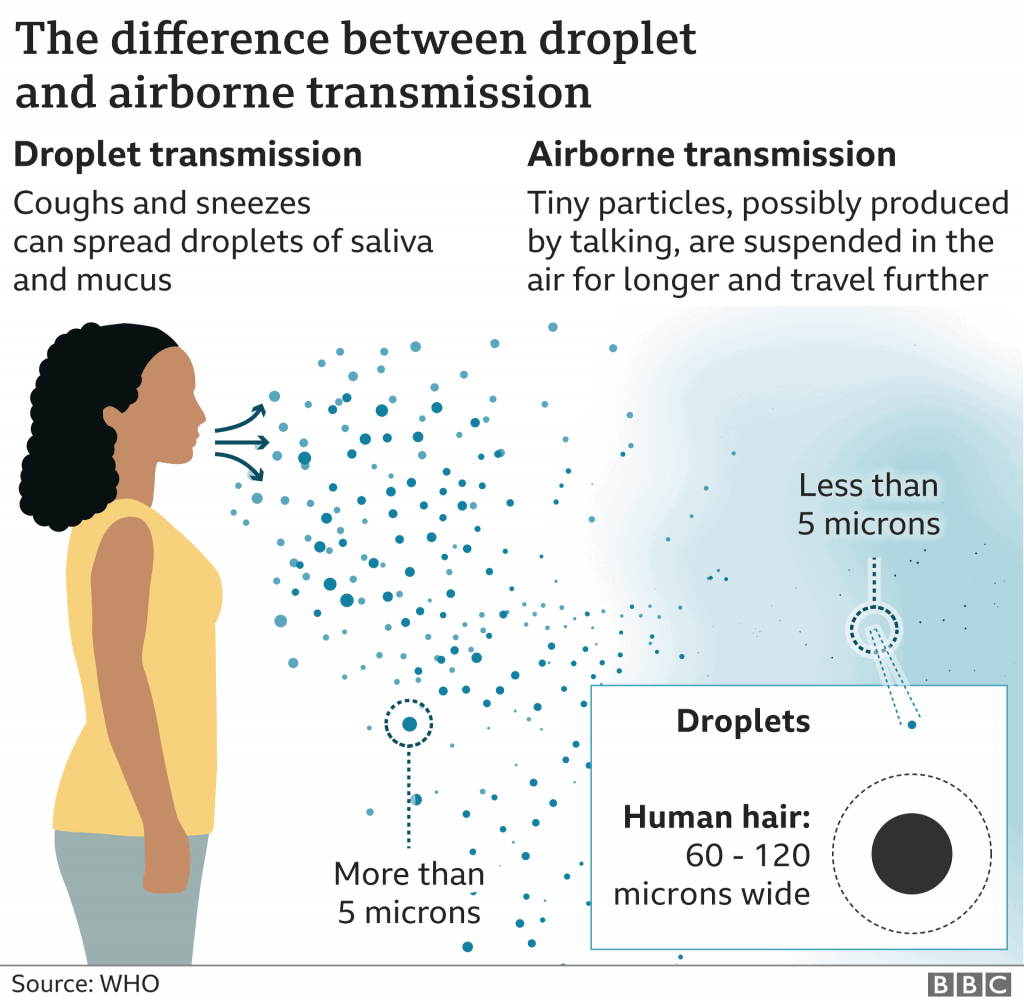 Image source: BBC
The Government has updated its guide to staying safe outside the house, and this includes helpful information such as:
Keep your distance from people outside your household or support bubble
Keep your hands and face as clean as possible and wear face coverings
Avoid shouting or singing close to people outside your household or support bubble
In the words of Batman from The Dark Knight Rises, "The mask is not for you, it's to protect the people you care about." Let's all try to be a bit more like Batman when face coverings become mandatory in shops on 24 July.